The Tradition
Matt Hobby was known by all to be tough and determined both on the field playing for the Hounds and off the field in his personal fight against cancer. Since Matt's passing, each year the Pope senior football players and coaches select a teammate that best exemplifies Matt's qualities, making it truly an honor to receive the #70 jersey.
In all my years since high school, playing college football and coaching all over the country, my proudest football accomplishment is getting voted to wear #70 my senior year." – 2006 Honoree Matt Hanshaw
---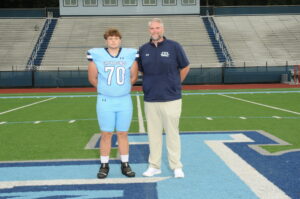 2023 MATT HOBBY RECIPIENT 
        ADAM NORWOOD 
1. WHAT IS YOUR FAVORITE FOOD? Sushi
2. WHAT IS YOUR FAVORITE SONG? Tishomingo by Zach Bryan
3. WHO IS YOUR MOST ADMIRED FOOTBALL PLAYER (COLLEGE OR NFL) AND WHY? – Brandon Burlsworth. He walked on at Arkansas in the 90's and worked his way up to become the starting guard and the best walk on in CFB history. I really admire his hard work.
4. HOW LONG HAVE YOU PLAYED FOOTBALL? 
10 years. Started in the Youth Greyhounds program in 3rd grade.
5. WHAT IS YOUR FAVORITE POPE FOOTBALL MEMORY?
Beating Lassiter my junior year and being on TV as the High Five Game of the Week.
6. WHAT ARE YOU MOST LOOKING FORWARD TO THIS SEASON?
Running our new style of offense
7. WHAT ARE YOUR PLANS FOR NEXT YEAR?
Go to Georgia State University and major in Kinesiology
8. WHAT WILL YOU MISS MOST ABOUT POPE FOOTBALL?
The brotherhood I've built with my teammates for the last 4 years
9. WHAT DOES IT MEAN TO YOU TO BE SELECTED AS #70?
It means a lot because it means I get to carry on the legacy that Matt upheld of hard work, bravery, and perseverance
---
Past Recipients
2022 – Patrick Burns

2021 – Brian Baumann
2020 – Connor Patterson
2019 – Will Mitchell
2018 – Cody Olszewski
2017 – Ryan Inskip
2016 – Logan Otsby
2015 – Austin Nielsen
2014 – Ben Cottingham
2013 – Quintin Bange
2012 – Cody Amon
2011 – Zach Hanshaw
2010 – Trevor Buhr
2009 – Rylan Leary
2008 – Garrett Schoppman
2007 – Geddy Wilson
2006 – Matt Hanshaw